The Purpose of Family Education Through Christian Homes
To represent the home-educated community in a manner that honors Jesus Christ.
To keep the group informed of any pertinent home education events.
To provide an atmosphere for exchange of teaching techniques and curriculum information.
To provide family social events, educational field trips, and group enrichment activities for our children.
To promote public awareness of home education.
F.E.T.C.H. Mission Statement
To provide educational, relational, recreational, and spiritual support opportunities to Christian home educated families to help support their individual goals.
F.E.T.C.H. Code of Conduct
All who participate in F.E.T.C.H. activities are expected to represent Christ in all they do and say. Specifically we ask that, at F.E.T.C.H. events, both parents and children respect the following standards: To abide by the F.E.T.C.H. handbook and procedures, speak carefully, honoring the name and character of God by avoiding profane and vulgar speech; to act appropriately, practicing courtesy, and respecting both persons and property; to be considerate of others, dressing modestly, and abstaining from the use of alcohol or tobacco or any form of recreational drugs.
---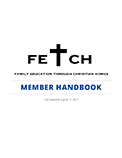 F.E.T.C.H. Member Handbook
---
Current Board Members
Cherie Teed (Treasurer)
Christina Arnold (Secretary)
Jamie Urbain (General Board Member)
Josh Urbain (Vice President & Registrar)
Scott Teed (President)